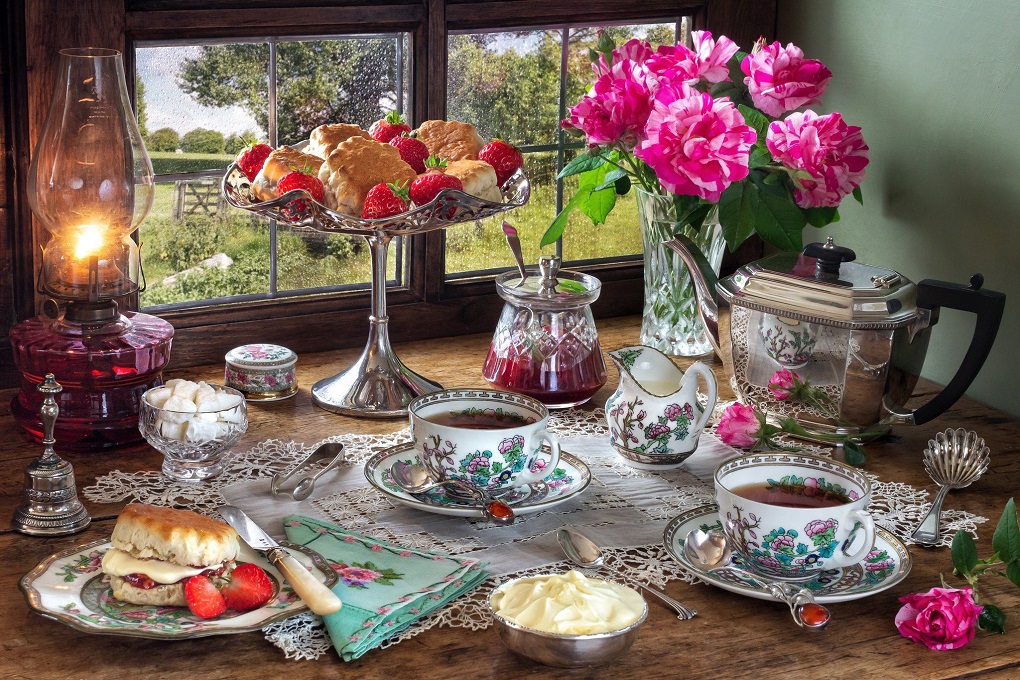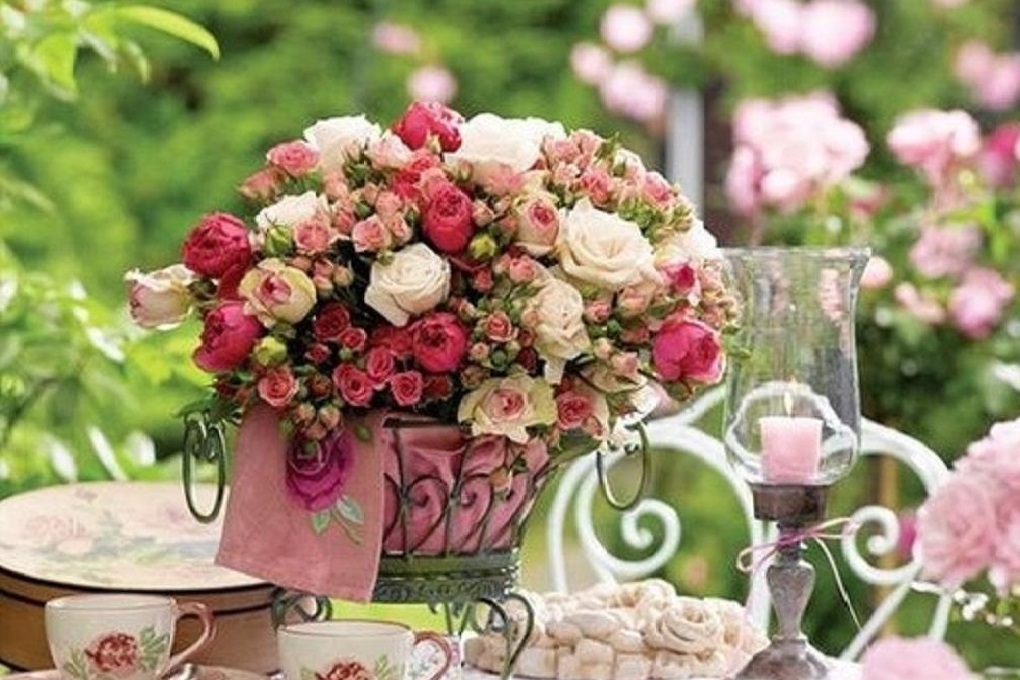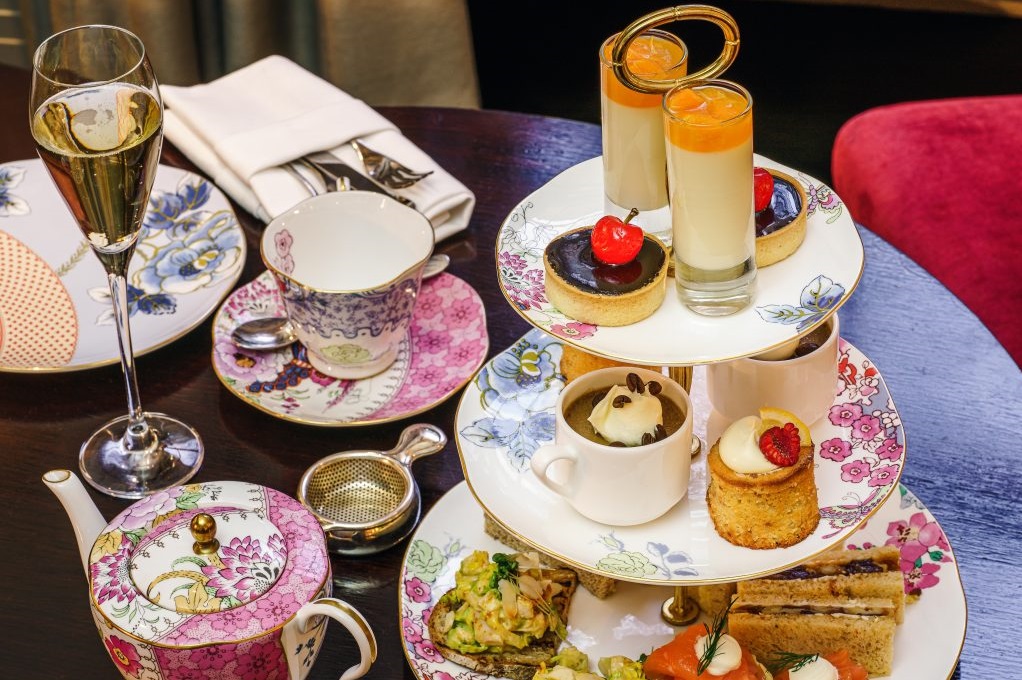 Wee History of Scottish Teatime
THE TEA MASTER'S BLOG
Tea was first served in the royal palaces of both Scotland and England by queens who grew up on The Continent where tea was already a fashionable beverage.
The Duchess of York, Italian born Mary of Modena, picked up her tea habit while living in the Netherlands. She poured the first tea in Scotland in 1680 when it was served at Holyrood Palace at Edinburgh. Her husband would become James II of England.
Catherine of Braganza, England's first tea-drinking queen, had been drinking tea at Hampton Court since 1662 following her arrival from Portugal to marry Charles II.
Both imported queens were instrumental in sharing their tea ritual with nobility and the exotic – yet expensive – Chinese beverage was quickly infused into the wealthiest households. Everyone wanted to imitate the lifestyle of the royal family!
By 1705, George Smith, a Scottish goldsmith advertised green tea for 16 shillings per pound and Bohea black tea at 30 shillings per pound. He sold his expensive tea alongside his jewelry.
But, by the 1730s, tea-drinking fell out of favor for a few decades as it was denounced as being effeminate and a threat to the masculinity of the Scotsman. Some nationalists saw it as just another plot by the English to undermine the Scottish spirit. Dr. Thomas Short published a pamphlet in 1650 warning that tea drinking would "lead to an idle sedentary life…Green tea thins the humors and contract the body fiber; Bohea tea smooth and softens fibers."
Scottish Proverb – "Life is like a cup of tea….it's all in how you make it."
Alas, a cup of hot tea is often the body's best defense against the cold damp breezes that sweep in from the North Sea, and tea became a common beverage in the early 1800s as it became more affordable. Scotland saw the rise of many tea advocates over the next two hundred years.
Andrew Melrose & Company began selling tea in Edinburgh in 1812 and eventually obtained a Royal Warrant as tea purveyor to Queen Victoria and the royal palaces Holyrood and Balmoral. Melrose was the first British company to legally obtain tea independently of the East India Company. His leadership helped lead to the end of the East India Company's monopoly on tea in 1833 and the break-up of the quasi-monopoly held by the old established London wholesale dealers. In January 1836 alone, 1000 cases of tea arrived in Leith for Melrose. The company closed in 2004 after supplying tea to the UK and beyond for nearly two centuries.
Glasgow witnessed the genesis of Thomas Lipton's tea empire in 1871 when he returned from a sojourn in America and opened his first store selling meats, cheeses, and grocery items. Soon his 300 stores were selling tea grown on his estates located on the island country of Ceylon. Lipton's, now owned by Unilever, is the world's largest tea company, controlling 14% of the global tea market.
By 1875, Stuart Cranston installed a few tables and chairs in his Glasgow tea store for the comfort of customers. He offered tea with milk and sugar along with optional bread and cakes. His was the first sit-down tearoom in Scotland. But, before long, his sister Mary became the grand dame of the Glasgow tearoom movement when she opened five tearooms, some designed by Charles Rennie Mackintosh, architect of the Glasgow School of Art. Her Willow Tearooms remains open to this day on Sauchiehall Street.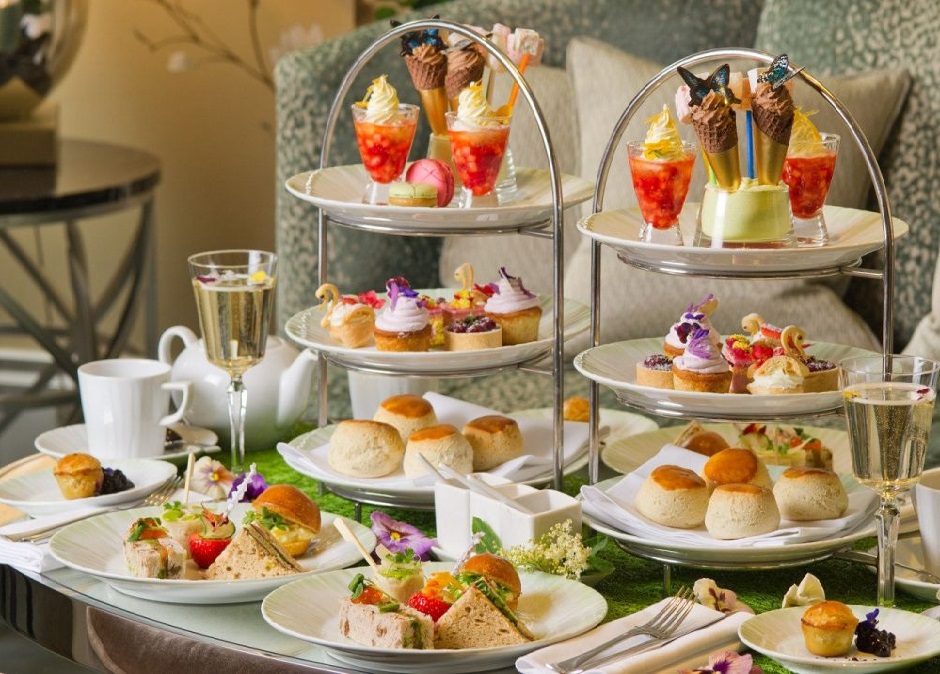 With images like Braveheart, Loch Ness, bagpipes and kilts, Scotland occupies a mythic place in the minds of many. But few realize the importance Scotland played in making tea so popular.
Scotland's relationship with tea started in the early 1600s, when it was formally introduced to the country. Later, many Scots went to India and Ceylon (now Sri Lanka) to start and run tea estates. Scotsman James Taylor is known as the father of Ceylon tea.
Scots helped make tea a global drink. Lipton, one of the most recognizable brands, started in Scotland. Thomas Lipton opened his first grocery shop in Glasgow, Scotland, in 1871. After growing his grocery business to over 300 stores, he entered the tea business. Buying directly from growers and even starting an estate himself, Lipton became the first to sell tea to the public at low prices. He was one of the first to create a specific brand of tea that would be the same everywhere it was sold. In the 1890s, Lipton expanded his brand to America.
Although the most popular type of tea is English Breakfast, it was actually created in Scotland. According to legend, it was invented in Edinburgh, Scotland, by a Scottish tea master. Queen Victoria, fond of all things Scottish, popularized the blend in England. It eventually became known as breakfast tea. Over the years, companies across the world have copied this tea.
Today, two types of Scottish tea predominate: Scottish Breakfast and tea blended specifically for Scotland's soft water. Scottish Breakfast, made by companies around the world, is a full-bodied black tea with a malty flavor best served with sugar and milk.
Real Scottish Tea is blended for the soft waters of Scotland. Two of the leading authentic Scottish teas are Scottish Blend and Brodies. Scottish Blend was introduced in 1990 and is among Scotland's favorite brands of tea. Scottish Blend Tea was launched as the first specially blended tea for Scotland. Now available worldwide, Scottish Blend is increasingly popular throughout the world. Scottish Blend tea is produced by Unilever, makers of PG Tips, England's favorite tea.
Today, Brodies still produces tea in Scotland. Available in distinctive drums, Brodies Tea is popular with visitors to Scotland. Brodies is still a family business and has been importing and blending tea since 1867. Brodies started in Leith, Scotland, where tea clippers once landed their cargoes. In 2002, Brodies moved to a new state-of-the-art production facility outside of Edinburgh.
Each Scottish tea has a unique taste. To determine what you prefer, first take a sip of the tea without milk or sugar. Then, you will discover the real flavor of each tea. You may discover you really prefer one type of tea over another. Then, you can add milk, cream or sugar.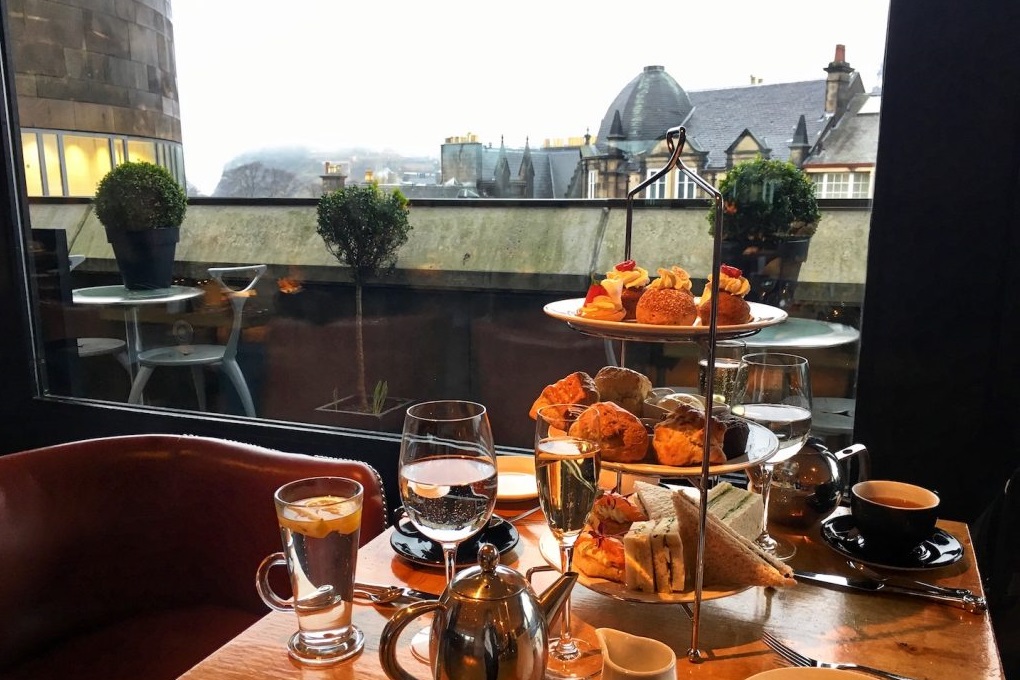 SCOTTISH TEATIME WITH MUM
Afternoon tea, high tea, cream tea, royal tea, Light Tea & Elevenses – we love them all. While these and various other terms are often used interchangeably, they are actually quite different. To help, we're unravelling the teatime differences and terms and explaining what they mean.
CREAM TEA – refers to scones with clotted cream (also called Devonshire cream) and jam. If you visit the UK, you will find Cream Tea available on a lot of cafe menus, especially near tourist hot spots like castles or cathedrals.
Clotted Cream originated in Devon and Cornwall, although it is now easy to find all over the UK. A popular question related to Cream Tea is whether the cream or jam should be put on the scone first. If you're in Devon, the cream goes on first, followed by a hearty scoop of fruit jam. If you're in Cornwall, the jam is put on first. Regardless of the way you order your toppings, a Cream Tea is an absolute must if you're visiting Scotland.
ROYAL TEA – Start with an assortment of tea sandwiches including the popular egg salad, cucumber and cream cheese, tuna salad, ham, and mustard and lastly, smoked salmon. You can pick a variety of scones, from butter to berries and so on but just make sure you also serve clotted cream and some jams. Lastly, end on a sweet note with a selection of pétit fours and small pastries. If you're using a tiered stand, you'll want to order them as so: sandwiches on the bottom tier, scones in the middle and the sweets on top! Serve with champagne.
LIGHT TEA – is paired with scones and sweets.
HIGH TEA – is served at a dining table, hence "high tea", and is more of a meal that is intended to fill in the long gap between lunch and dinner. Many High Teas will include cold meats, jam, tea cakes, fresh bread, more substantial sandwiches, pork pies, etc. High Tea is usually served on regular plates instead of fine China and is a precursor to a light dinner which may be served later in the evening around 8pm. It is what many workers would consume after a long day in the fields or factories in the UK. Tea served for High Tea is usually strong and most often black, however this is based on preference.
ELEVENSES – are Mid-morning snacks.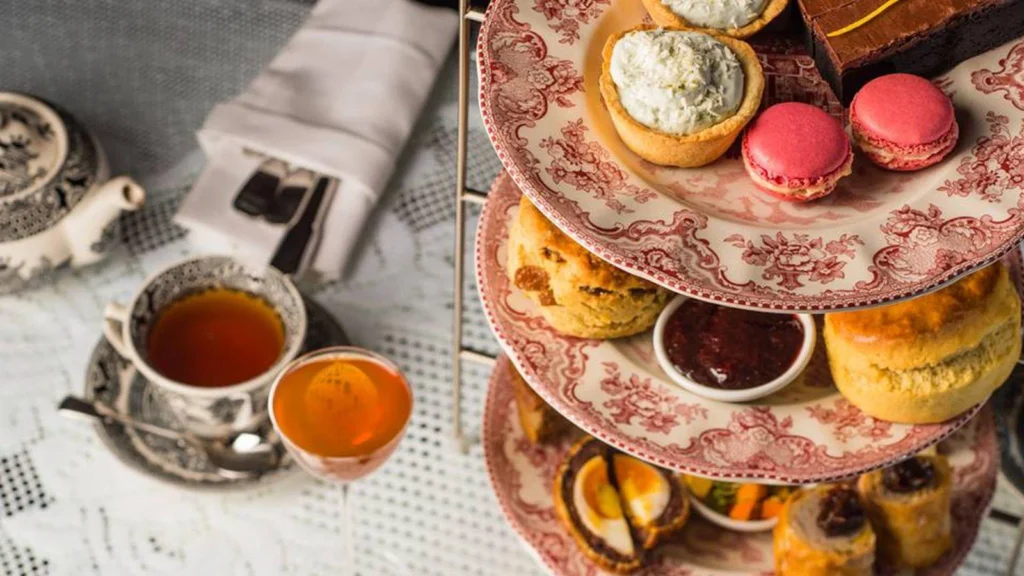 THE RULES
#1: DRESS APPROPRIATELY
You don't have to go decked out in party dress but stay away from jeans and sneakers. You should look neat and put together.
#2: KEEP PHONES OFF THE TABLE
Phones, glasses, and any other personal items shouldn't be on the table. Instead, place them on your chair to your left or right.
#3: PUT YOUR PINKIE FINGER DOWN
Should the pinkie be up or down when sipping tea? DOWN. The proper way to hold a teacup is to hold the handle with the pinkie finger down, never up.
#4: HOLD THE TEACUP BY THE HANDLE
Don't cup your hands around the teacup. The teacup should only be held by the handle. (With the pinkie finger down.)
#5: STIR UP AND DOWN, NOT IN CIRCLES
Move your teaspoon up and down (6PM and 12AM), gently folding in the sugar or milk. Making noise with the teaspoon is frowned upon so make sure your spoon doesn't clang and touch the sides of the teacup. Also, don't tap your teaspoon on the side of the teacup.
#6: DON'T DRINK FROM YOUR TEACUP WITH THE TEASPOON IN IT
After you've stirred your tea, put your teaspoon on the saucer either on the right side or behind the cup. Whew, OK, NOW you can drink your tea. As a general rule, don't leave your teaspoon in your teacup.
#7: DON'T PUT THE TEASPOON IN YOUR MOUTH
The teaspoon shouldn't go in your mouth, as funny as that sounds. It's there just to stir the tea if you're adding sugar or milk.
#8: SAUCER STAYS ON THE TABLE
When you're sitting at the table, there's no need to lift up the saucer to drink from your teacup. The only time it would be proper to pick up the saucer is if you're more than a foot or so away from it, as in the case you were standing. Then the saucer would be held on your left hand and the cup held on the right.
#9: DON'T BLOW ON THE TEA TO COOL IT DOWN
What are we, savages? Let the tea cool on its own if it's too hot. Don't blow on the tea.
#10: TAKE SMALL SIPS OF TEA
Don't make loud slurps when drinking your tea. Take small, quiet sips. Yup, doing everything quietly is a common etiquette rule.
#11: DON'T SWISH YOUR MOUTH WITH TEA
Your tea isn't a mouth rinse. (Even if you do it quietly.) Don't swish the tea around your mouth.
#12: USE MILK AND SUGAR ONLY FOR BLACK TEA
Only use milk and sugar for black tea — never for green, oolong, white, or herbal tea.
#13: EAT WITH YOUR FINGERS
It's not often that you get to eat food with your fingers but that's the proper etiquette for afternoon tea. Don't be shy about eating everything from tea sandwiches to mini sweets with your hands.
Use a knife for slathering on clotted cream and jam for scones.
#14: TEA SANDWICHES ARE EATEN FIRST
Afternoon tea comes in three courses — usually all at once on a three-tiered tray. Eat the savories and tea sandwiches first. Scones with clotted cream and jam are eaten next, then finally the sweets. Tea sandwiches should be eaten in 2-3 bites. Don't jam the entire sandwich in your mouth.
#15: BREAK SCONE INTO SMALL PIECES
Break a bite-sized piece off the scone, slather on clotted cream and jam using a knife, then eat and repeat. Please don't make a scone sandwich.
#16: NEVER DUNK YOUR SCONE INTO TEA
I've never seen anyone do this but apparently people do. Scones should never be dunked into your tea.
#17: USED UTENSILS DON'T GO BACK ON THE TABLE
Wait, then where do the utensils go? Once a flatware has been used, rest it on the right side of the plate. Don't put it back on the table.
#18: DON'T LICK YOUR FINGERS
Nope. Don't. Do. It.
#19: DAB, DON'T WIPE
When you want to wipe away something from your face, don't treat the napkin like a towel. Dab don't wipe.
#20: PLACE UTENSILS ON THE PLATE IN THE 4:20 POSITION WHEN TEA SERVICE IS OVER
Putting any utensils you've used in the 4:20 position lets the server know you're done with your meal and that it can be taken away. Fork tines should be up and knife blade facing you.
When you don't want your plate taken away, put your utensils at the 8:20 position with the fork (tines down) at the 8:00 and knife (blade facing you) at the :20.
#21: PLACE NAPKINS ON THE LEFT SIDE OF THE PLACE SETTING WHEN GETTING UP
There is some debate on this. I've read that some say never to place a used napkin on the table, and it should only go on your chair. Others say it should never be placed on the chair and only on the table. I'm going with leaving the napkin on the left side of the place setting since if you have a dirty napkin, you don't want to leave any stains on the seat. Either way, don't put the napkin on your plate.
Article Credit: The Boston Tea Party – The Teamaster's Blog – https://www.bostonteapartyship.com/tea-blog/the-first-tea-in-scotland
Article Credit: Understanding Scottish Tea – https://www.teadog.com/blog/understanding-scottish-tea/
Article Credit: Scottish "Teatime" with Mum – https://www.teawithmum.com/unravelling-the-teatime-differences/
Article Credit: Teatime Rules – https://www.ohhowcivilized.com/afternoon-tea-etiquette/
Photo Credit – Wallpaper Access
Photo Credit – Wallpaper Tip
Photo Credit – Sebastian Coman – Unsplash
Photo Credit – Glasgow Living – The Park Tower
Photo Credit – Bethany Looi – The Tower Restaurant
Photo Credit – Wallpaper Access