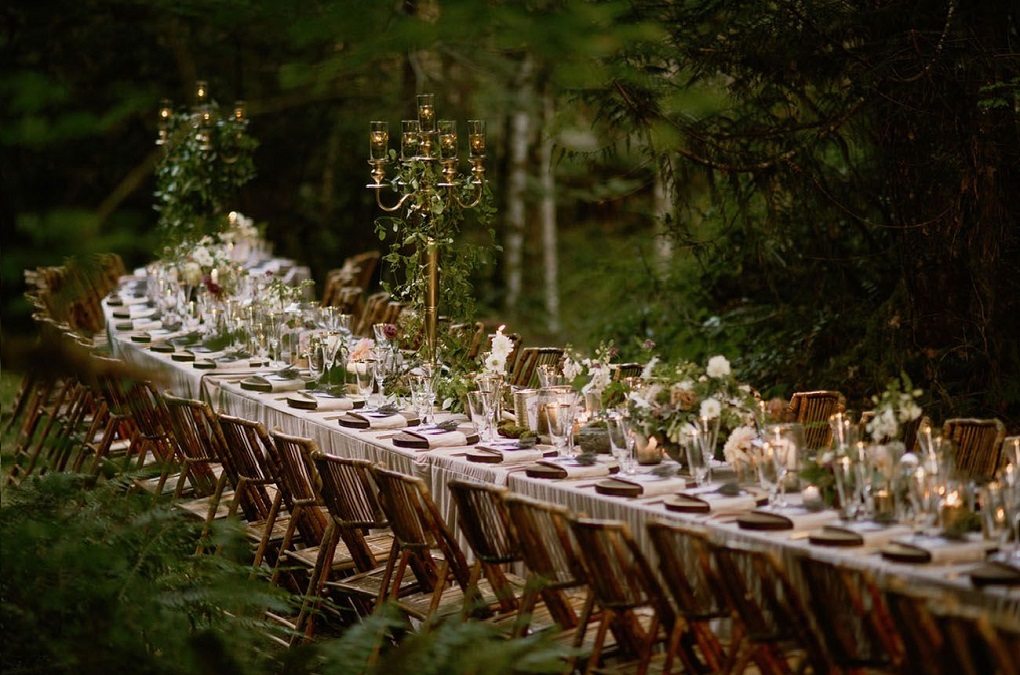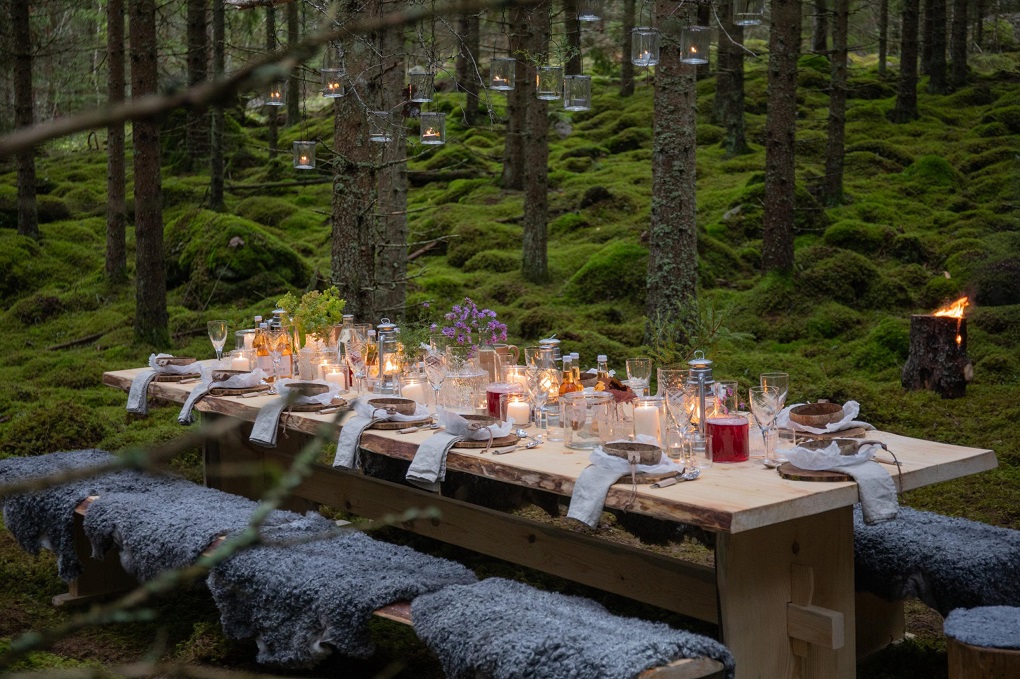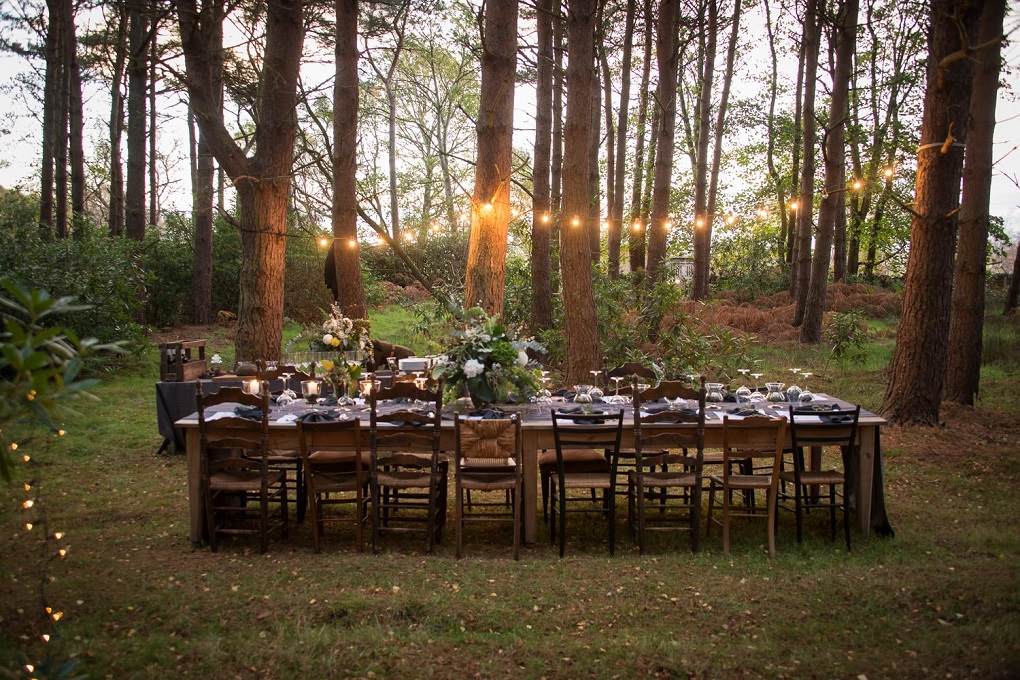 Wee History of Scotland's Wild Dining
Popping up amidst the most unsuspecting outdoor places, wild dining is the new foodie trend that's leaving Scotland spellbound. These al fresco feasts showcase the most enchanting creations of Mother Nature and the mother of rustic cooking herself, Amanda Farnese Heath.
Not just the queen of rustic food, Amanda Farnese Heath is also the brains behind Mad March Hare, the creative force of these otherworldly wild dining events. A celebrated food photographer, food stylist, cooking connoisseur and yoga instructor, Amanda orchestrates each and every detail, from the menu design and the cooking to the styling, the ambience and anything else in between.
Amanda Farnese Heath, "When I started popping up in kitchens with bad lighting (strip lighting really effects my mood), I loved the idea of what I was doing but it never felt like it was completely me. I realized that somewhere in my Italian make up, was the joy of being outdoors, in a warm climate at a long table set out in an olive grove, enjoying a rustic feast with friends. But I live in Scotland and it's cold, yet I thought why not? Let's give it a go."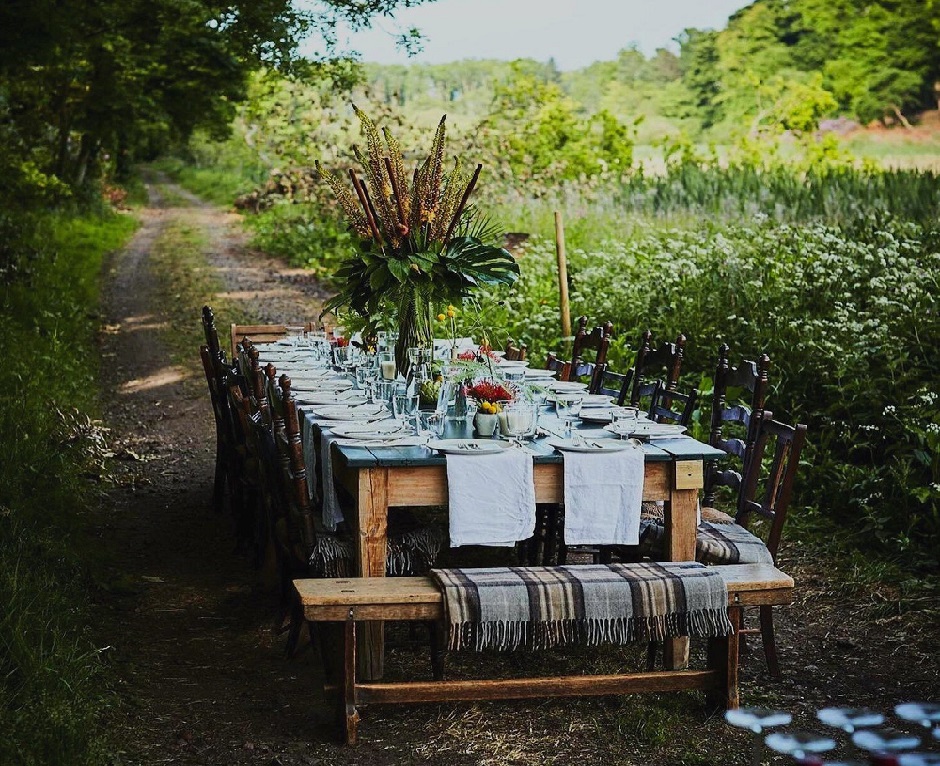 Surrounded by towering trees and verdant foliage, the first wild soiree took place in a secluded patch of woodland in East Lothian. Strands of fairy lights garnished the tree trunks and an exquisite vintage table, dressed to impress, provided the perfect stage for the feast to come. But first, a spot of foraging. Thanks to foraging guru Monica Wilde, wild diners learned the art of foraging mushrooms, which were then cooked to perfection as the first course.
Cooked on the fire and served over four hours, the seven-course menu included mouthwatering dishes such as local lobster, prawn and saffron mac 'n' cheese, venison stew with celeriac, potato nutmeg mash, and piranha BBQ. Vegetarian picks ranged from tomatillo salsa with Romesco, chipotle mayonnaise and roasted rainbow carrots, to onion squash stuffed haggis with parsnip puree freeka. The grand finale revolved around artisan cheeses, cardamom truffle coffee and burnt peach caramel tarte. Food at its finest.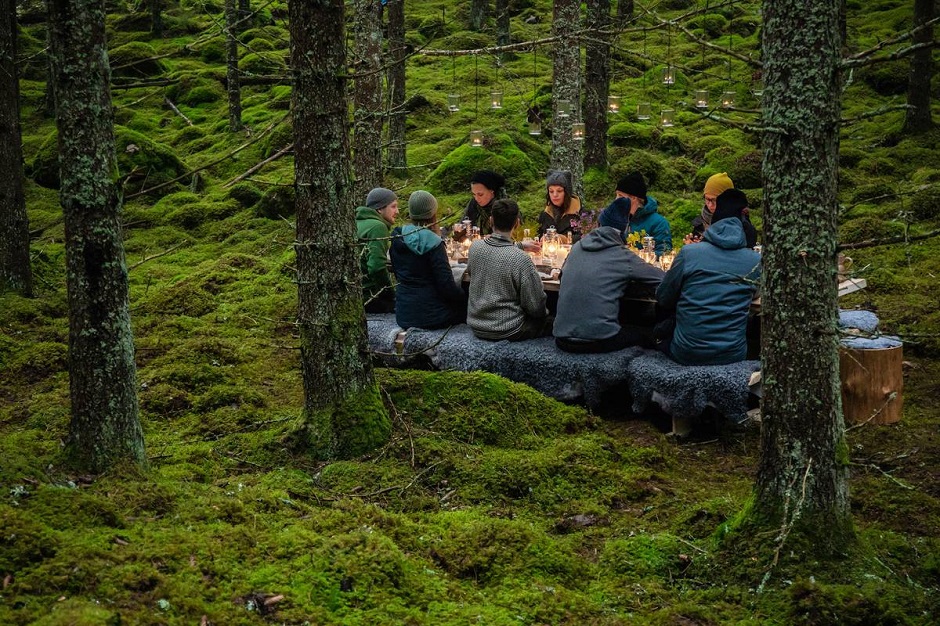 Spectated by a lone canopy of stars dancing above, the feast continued into the wee hours of the night. The sounds of chatter and the clinking of glasses filled with organic wine and fizz created a symphony that echoed across the long table adorned with candles, foliage, and silverware – like something from a dream. Amanda even put hand warmers in cashmere pockets, which she made from an old jumper should anyone feel the cold.
When the festivities drew to a close, the magic reminiscent of a childhood story book maintained its spark as guests ventured down a secret path leading them to their own private tree houses – the wild dining digs for the evening. The next morning, guests received an organic breakfast delivery, which they could cook themselves before exploring the surrounding sandy dunes.
In true Amanda style, the magic lies within the details – fairy lights, inventive fuss-free rustic dishes, organic wine and bubbles and even a film screening under the stars.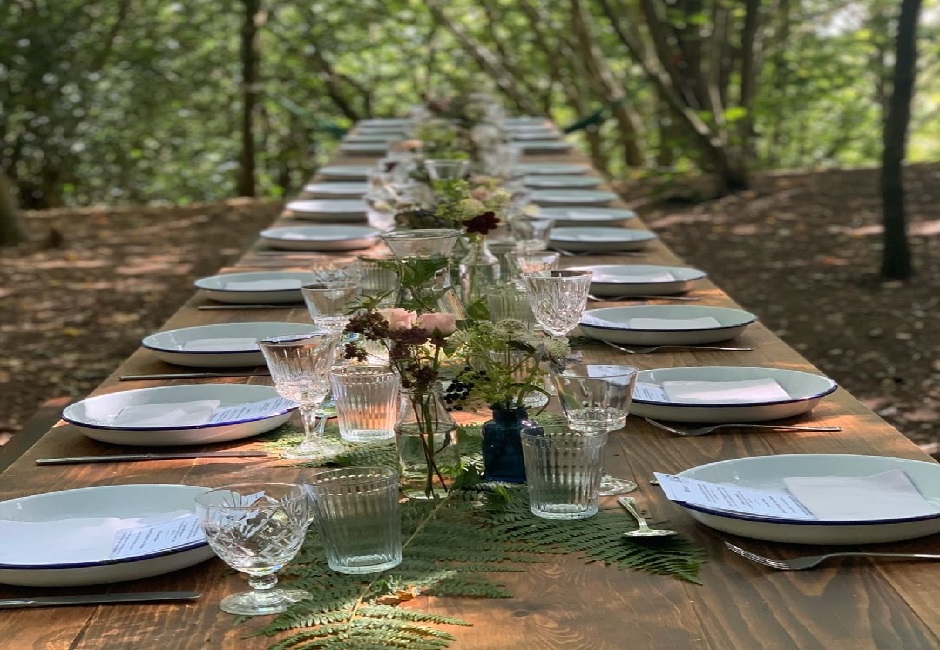 From film screenings to classical ensembles, each Mad March Hare event is graced with its own signature twist, but the magic remains a recurring theme.
Amanda Farnese Heath, "Covered in pine needles, the ground was soft and smelled divine and the tall trees protected us from the westerly wind. Even the candles burned bright all night. There was no kitchen or walls to restrict me and the whole evening felt like a dream."
Article Credit: The Culture Trip – https://theculturetrip.com/europe/united-kingdom/scotland/articles/the-wild-dining-events-leaving-scotland-spellbound/
Photo Credit – Pinterest – The Family-Style Dinner Table in the Woods
Photo Credit – Visit Sweden
Photo Credit – Culture Trip
Photo Credit – www.hareandheath.co.uk
Photo Credit – Jetset Magazine – The Edible Country
Photo Credit – Visit Britain